5 Smoothie Recipes with Nutrients to Support Your Immune System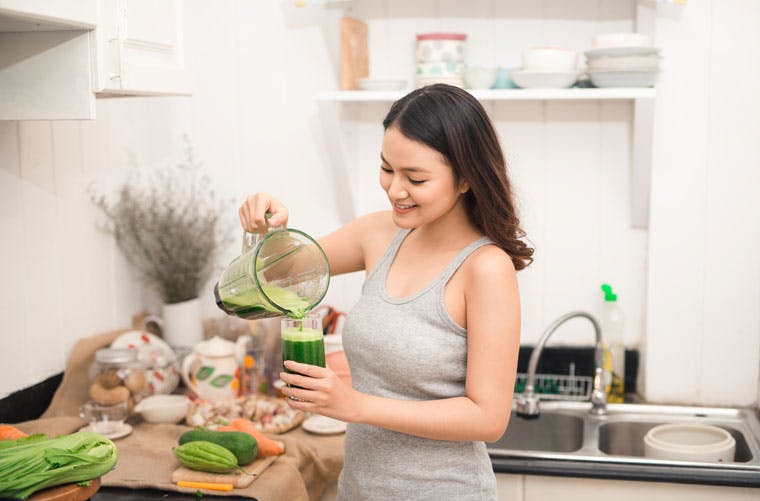 If you're looking for a drink that packs a punch and tastes great, a smoothie with immune system-supporting nutrients is a great option. Chock-full of antioxidants and other nutrients, any one of these smoothie recipes will brighten your day and help support immune health. Try out a smoothie as a quick and easy breakfast, for a post-workout cool-down or as a sweet afternoon pick-me-up. These immune-supporting smoothie recipes work double time to support your health and wellness while delivering fresh and fruity flavors that anyone can enjoy. Plus, each recipe is a one-serving drink. Pull together your favorite produce and Emergen-C drink mix flavors, and let's get blending!
Smooth Raz
This raspberry-flavored smoothie features almond milk, a plant-based ingredient that provides vitamin E and calcium. Combine that with one packet of Emergen-C® Raspberry vitamin drink mix and you've got a smoothie that's "berry" delicious and nutritious!


Green Dream
This smoothie might just be the tastiest way possible to eat your greens! Made with one packet of Emergen-C® vitamin drink mix, kale, mango, flaxseeds, a banana and more, this green smoothie offers up vitamin C, zinc, manganese, omega-3 essential fatty acids and fiber. It's more fun than eating a salad, if we do say so ourselves.


Maui Kapowee
Bring the flavors of Hawaii into your home kitchen with this tropical smoothie. Fresh pineapple juice, crushed ice and one packet of Emergen-C® Tropical vitamin drink mix packed with vitamin C and beachside vibes.


Ah-Sigh-Ee Fruit Smoothie
Notoriously hard to pronounce, the açaí berry is an antioxidant-rich superfood that's native to Central and South America. Try out this trendy berry in smoothie form with blueberries, a banana and one packet of Emergen-C® Açaí Berry vitamin drink mix for a purple-hued immune system supporting treat.


C for Me Smoothie
This bright orange smoothie only calls for three simple ingredients: a packet of Emergen-C® Tangerine vitamin fizzy drink mix, orange juice and a handful of ice. Deceivingly simple to make, this smoothie is full of vitamin C, antioxidants and B vitamins. Now that's a hard-working drink!
Looking for more delicious recipes with immune supporting nutrients? Check out the Emergen-C® recipe collection for drink, smoothie and snack ideas.