Ways to Cook with Walnuts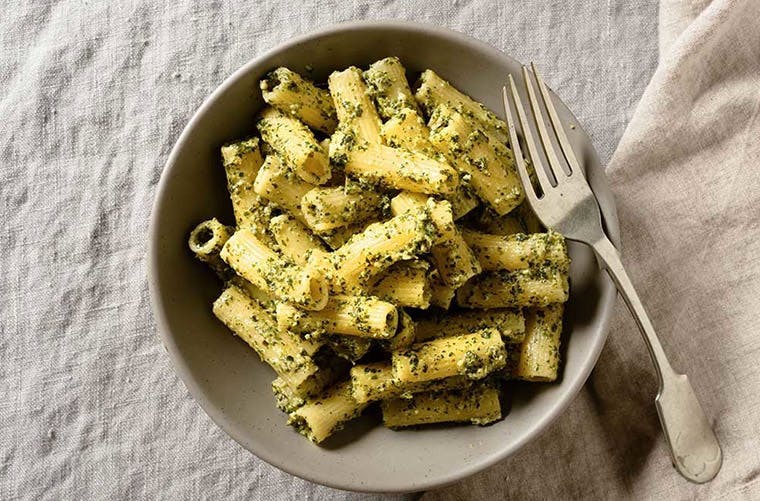 You may already know that it's a good idea to add nuts into your diet (if you're not allergic, of course!). Studies have found an association between regular consumption of walnuts and peanuts and a lower risk of heart disease, and walnuts in particular contain a lot of omega-3 fatty acids.
A recent smaller study also found that walnut consumption may be beneficial for gut health. Researchers found that consuming 42 grams of walnuts a day (about 10 to 11 walnuts) affected subjects' gastrointestinal microbiomes, the collection of bacteria in your gut that help with the function of your immune system, digestive system, and more of your body's functions. The study authors hypothesized that their results may help start to explain how walnuts help with cardiovascular health. While this was a small study and more research needs to be done, it can't hurt to work walnuts into more of your meals. Here's how to do just that all day long:
Have a better breakfast: Make this zucchini-walnut loaf on the weekend and you can grab a slice for breakfast all week. This bread freezes well if you want to make a big batch, too. It's spiced with mouth-watering flavors like nutmeg and cinnamon.
Jazz up your pasta: Who says pesto needs to be made with basil and pine nuts? Mix it up a little with this parsley-walnut pesto pasta recipe, which gets some heft by using whole-wheat breadcrumbs in place of some of the oil, while the parsley provides vitamin C. The dinner leftovers will be perfect for lunch the next day.
Reach for this amped-up snack: Oatmeal doesn't have to taste bland. In fact, with a little creativity, you can make it taste like cheesecake (really). This recipe—which includes walnuts, reduced-fat cream cheese, dried cherries, and lemon zest—is one that you'll want to make over and over again. You can also big-batch it by making it overnight-oats style.
Add crunch to your stir-fry: Try adding walnuts to a spicy noodle dish with spinach and bell peppers. This vegan main dish will please everyone, even meat eaters, but if you want to add more protein, just throw in tofu or seitan!
Make them the star of taco night: Walnuts in tacos? Yes! This recipe combines ground, toasted walnuts with chopped sautéed celeriac to make a delicious, plant-based main. Put out toppings like corn, radishes, avocado, and salsa, so everyone can customize their plate.
Make the perfect salad: Looking for a healthy, filling, veggie-based side to accompany a roast fish or chicken dinner? Here it is! This dish combines red cabbage, scallions, blue cheese, and glazed walnuts (caramelized in maple syrup) for a sweet kick. Use the shredding blade on your food processor or a mandolin to save chopping time.
Try this fruity dessert: If you're looking to make a dessert for a party, try a fruit tart instead of a frosting-laden cake. This blueberry tart swaps in ground walnuts for some of the graham cracker crumbs in the crust; you'll want to start using this trick every time you bake (say, in this sweet potato tart).

Use them as a topping for more than just brownies: Walnuts add a great healthy crunch to everything from roasted cauliflower salad to white bean salad with cheddar and bacon to green beans, and are even delicious on pizza!
Get more great health and wellness stories at EatingWell.com/Strive.
© Meredith Corporation. All rights reserved.