Meet the Most Efficient Home-Cook Ever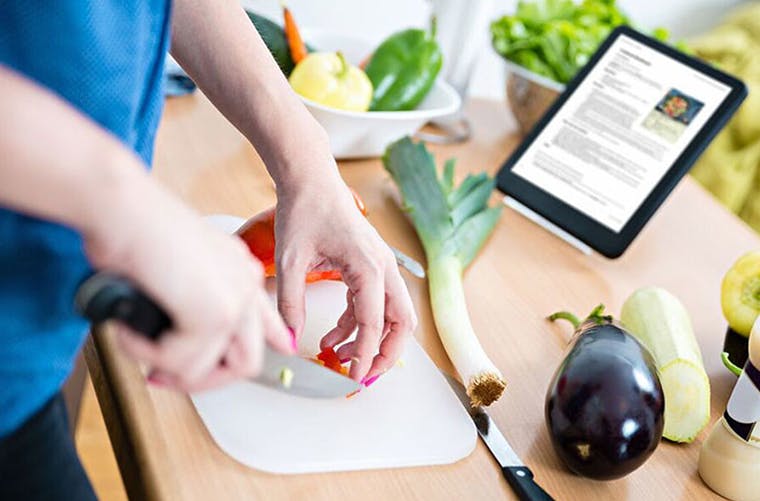 Leah Koenig, a food writer, recipe developer and cookbook author—and mom to a rambunctious three-year-old boy—shares her tips for getting dinner on the table every night.
WHEN PREPARING A MEAL, WHAT IS THE SIMPLEST WAY TO CUT BACK ON TIME?
Ditch the idea of "from scratch." No one needs to be soaking and cooking their own beans on weeknights. Prepared foods are fine, as long as you use them in conjunction with fresh ingredients. If you don't have time to chop garlic, for example, buy frozen cubes of it in the supermarket, store them in your freezer and pop one into your meal while you cook it. They taste fresher than powders. And I'm not above picking up a delicious rotisserie chicken if I'm crunched for time and just making my sides fresh.
VARIETY IS IMPORTANT, BUT RUMMAGING THROUGH FANCY FOOD BLOGS TO FIND DINNER CAN LEAVE YOU WITH RECIPES THAT TAKE HOURS TO COOK.
First, you don't have to be fancy. I tell people to buy a really good, low-sodium boxed tomato soup. All you need to do is heat that up, cut up some ciabatta bread and toast it in the oven with a good cheese. You'll have a really satisfying, upscale tomato-soup-and-grilled-cheese vibe. Another trick that I've found is to create a folder on your desktop of recipes that take 20-30 minutes to make. Then, when you are menu planning, you can just go through your files instead of searching online.
STILL, MANY DISHES, SUCH AS ROASTED VEGETABLES, TAKE LONGER THAN 30 MINUTES TO MAKE.
Not if you create your building blocks ahead of time. I rarely try to make a whole dish at once from start to finish. If I want to make veggies with fish and rice, I'll steam my rice in the morning while feeding my son breakfast and pop it in the microwave at dinnertime. Or I'll chop and prep food for the week on a Sunday. Grains are great to prepare in advance because they hold well in the fridge for several days. If you heat up some pre-made barley, and throw in some tahini and jarred kimchi, you'll have a quick and tasty meal.
WHAT INGREDIENTS ARE IMPERATIVE TO KEEP IN THE KITCHEN IF YOU WANT TO BE ABLE TO WHIP UP A HEALTHY MEAL FAST?
Pasta, lemons, frozen chicken, great olive oil and another oil that will add a different flavor. I love roasting sweet potatoes in coconut oil. Good grating cheese like pecorino or parmesan and good boxed broth to add to quick soups and vegetable dishes are also important. I always have fresh salad greens around, too. You can throw some arugula in a bowl and mix it with olive oil, salt and pepper and have a delicious, fresh side in seconds.
SOUNDS LIKE TOPPINGS ARE AN EASY WAY TO AMP UP A MEAL WITHOUT TOO MUCH WORK.
Yes! A dusting of cheese or sprinkling of oil can bring a dish to a special place without doing so much work. You can shave lemon zest onto anything and it tastes amazing.
WHAT'S YOUR GO-TO QUICK MEAL?
Pasta with a roasted veggie like broccoli rabe, lemon zest, cheese and olive oil. If I want protein I'll add fish or canned beans. Simple, fast, satisfying and delicious.
© Meredith Corporation. All rights reserved.