Ways to Use Bananas Before They Go Bad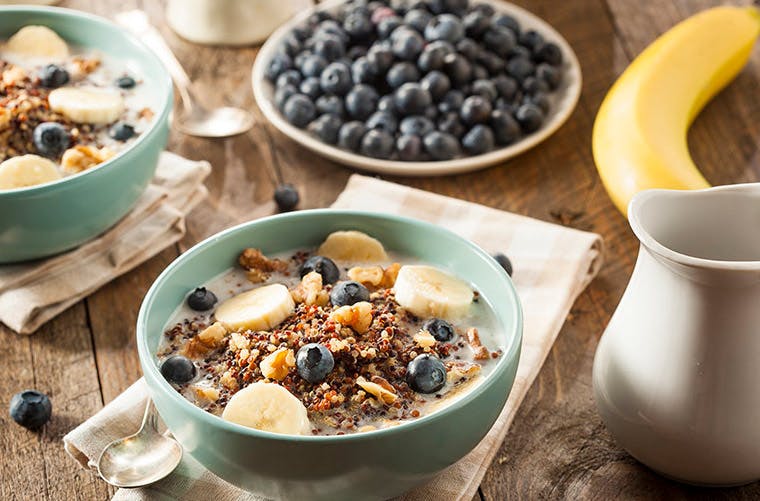 Bananas are one of those easy, take-anywhere, eat-anytime snacks that make them a must-buy when you're at the grocery store. They're also healthy: A medium banana has three grams of fiber (which helps keep you full) and more than 500mg of potassium (which your body needs for almost everything it does). But they don't stay good forever. In fact, bananas seem to inevitably go from green to brown before you can eat them all. But those ripe bananas on your counter don't have to be destined for the trash can! There are, well, a bunch of ways you can use them up. Try one of these nine recipes to start:
Whole Grain Banana Muffins: Ripe bananas are extra sweet, which make them perfect for baked goods. But a lot of times, muffins can feel no better for you than cake. Try these healthy muffins, which use whole wheat flour, flax meal, and Greek yogurt to make you feel extra wholesome when you eat one.
Quinoa Porridge with Banana and Almonds: Sliced bananas are an ideal topping for warm breakfast cereal — and breakfast cereal doesn't have to just be oatmeal. If you don't have almonds, you can use other nuts like walnuts, pecans, or cashews.
Berry Banana Smoothie: Want a flavorful, quick breakfast? Blend together milk, frozen berries, a banana, honey, lime juice and ice with a packet of Emergen-C Super Orange. Just pour it into a glass, add a straw, and you're good to go!
Buttermilk, Banana, and Honey Ice Pops: Don't think you can eat all of your bananas right away? Freeze them! Just puree bananas with buttermilk, honey, vanilla, salt, and water, then pour into ice-pop molds and put in the freezer for whenever you want a little treat. A final dip in chocolate makes these even more delicious.
Healthy Banana Bread: This is the classic use for ripe bananas—and it's no wonder. This recipe subs in white whole wheat flour for all-purpose, and incorporates applesauce and honey for some natural sweetness and moisture.
Spicy Almond Butter and Banana Toast: When you are starving and don't feel like doing anything elaborate in the kitchen, this tasty toast is the way to go. Spread your favorite nut butter on a piece of toast, top with banana slices, and finish with a drizzle of spicy honey for a flavor explosion.
Gluten-Free Banana-Blueberry Pancakes: Just because you can't eat gluten doesn't mean you have to give up pancakes. This recipe uses a mixture of brown rice flour, potato flour, and almond flour instead of traditional wheat, but is just as delicious on a Sunday morning.
Banana-Caramel Tortilla Tarts: Tarts don't have to have a pastry base; in this recipe, sub in store-bought tortillas for something that's just as crispy and decadent-tasting but cuts down on extra butter and sugar.
Caramelized Banana Clafoutis: Ever want to make a dessert that really wows your dinner guests? This one is it. You make the clafoutis in individual ramekins, which creates a beyond-impressive presentation.
© Meredith Corporation. All rights reserved.