HOW TO KEEP YOUR HOME ORGANIZED NO MATTER HOW MUCH FREE TIME YOU HAVE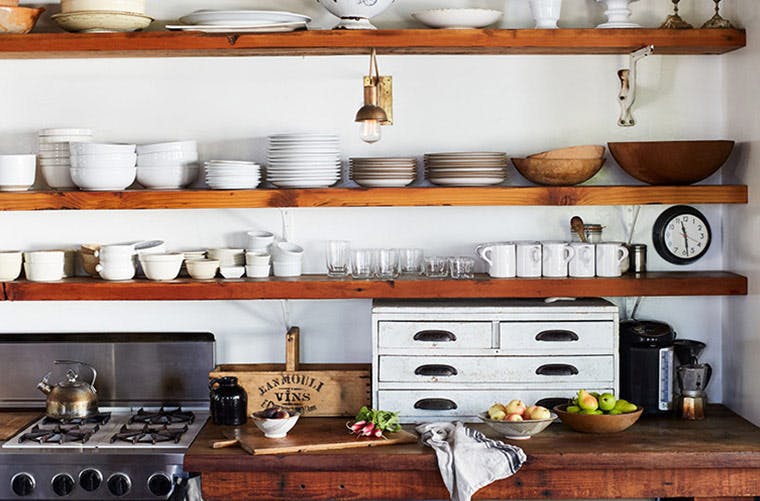 Easy, stress-free secrets to keep the clutter out of your life.
You have errands to run, places to be, activities to do—and the last thing you want is to take up your precious free time straightening up your house. But who doesn't love a well-kept, organized place to come home to at the end of a long day?
No one's expecting you to have the tricked-out neatness of a professional organizer (though here are their decluttering secrets if you want to try), but when the mood strikes and you feel like getting rid of some mess, you can get started with some of these ideas.
IF YOU HAVE 5 MINUTES:
WASH YOUR DISHES.
It's true: Dishes are a drag. But they're much less of a drag when you've only got two or three things to wash as opposed to an entire sink full of crusty pans. So as soon as you finish your avocado toast, rinse your plate and load it into the dishwasher, or hand-wash it and put it away.
FLUFF THE SHEETS.
Otherwise known as make your bed. If hospital corners are out of the question because you're strapped for time, a bare-minimum straightening of pillows and linens will make you feel accomplished (and grateful come bedtime).
DO A QUICK SWEEP.
Scan the rooms that you see as soon as you enter the house. Is there a throw blanket you can fold? A chair you can straighten out? Shoes you can put back into a closet? Small tweaks can make a big visual impact.
IF YOU HAVE 15 MINUTES:
INVENTORY THE FRIDGE.
Expired items can start hogging valuable space in your refrigerator, while decomposing vegetables only get grosser with time. When you have more than a couple minutes to spare, go through your refrigerator to compost what you can no longer use and take note of what you have that's good, so you can use it before it goes bad.
RUN THE VACUUM CLEANER.
While you're sucking things up off the floor, you'll naturally do some extra tidying as you go, if only to be able to maneuver the vacuum properly. You'll end up with a cleaner, more spacious floor.
IF YOU HAVE AN HOUR:
MAKE OVER A DRAWER.
Whether it's your bathroom cabinet, your spice pantry, or your junk drawer, if you have a bit of time on your hands, do a thorough refresh. Get rid of expired items and things you never use. Take those loose bobby pins and put them in a clean jar. Put like things—such as cold medicine and bandages—together in groups, so you're not looking all over for them in the future.
DO A SEASONAL SWITCH.
You can keep your space (and your mind) uncluttered by paring down the number of items you have in your closet. Get yourself some airtight bins and use them to put away seasonal clothing. When the temperatures change, rotate, and give your hangers some breathing room. This is also a great time to gather up things to donate to charity, too!
FEELING INSPIRED TO DO MORE?
GIVE EVERYTHING ITS OWN PLACE.
If staying organized is your mission, it might be time to create (or revamp) a system. This is an up-front investment of time and mental energy—you'll have to assess everything you have, what you use the most of, and what trouble spots you tend to encounter. But once you've figured out how to categorize your stuff and keep it corralled, you'll have a way to always put it back where it belongs—and not in a pile on the floor.
© Meredith Corporation. All rights reserved.