6 Ways to Actually Stick to Your Fitness Goals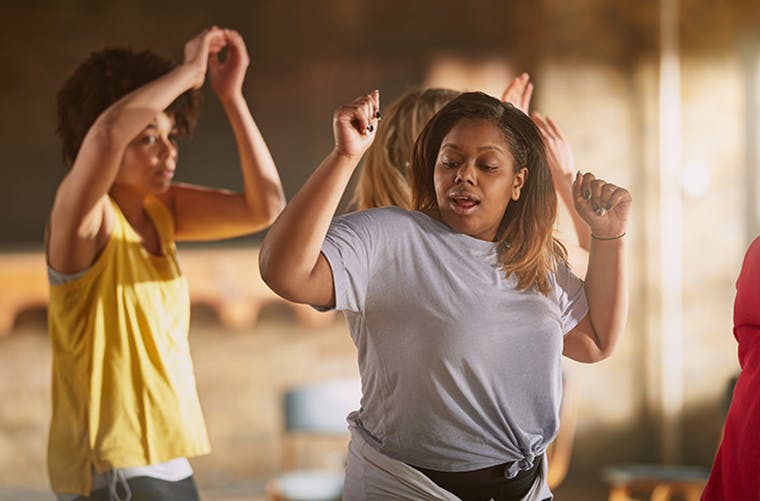 These little tricks will help you crush those goals, no matter what.
If you're committed to working out but your exercise routine could be more, well, routine, you aren't alone. It can be tough to stick to a set exercise schedule for a million reasons. Work, family, friends, errands, and new episodes of your favorite streaming show can derail even the best laid workout plans. That's why the secret to reaching your fitness goals isn't finding more willpower or motivation; it's about getting smarter and using a few tricks that will set you up for success. Try these:
1. CHOOSE SOMETHING YOU'LL GENUINELY ENJOY WORKING TOWARDS.
It can seem like half the people you follow on social media are training for a marathon or doing a yoga challenge, but that doesn't have to be your goal too. If you don't really like running or yoga, no amount of motivation is going to get you to do it more often. Keep trying things out until you hit on something that's fun for you. If you love spending time swimming, consider training for an open water race. If dancing is your jam, find an amateur performance group to learn routines with, or sign up for a style you haven't tried and set a goal of mastering new moves. It's a lot easier to reach goals you find fun!
2. FIND A FIT-MINDED FRIEND.
It's natural to feel like doing anything other than exercising some days, but if you have a pal who is planning on meeting you at the park for a run or partnering with you in that new dance class, you're not going to leave them hanging. Plus, in a busy world, it's a great way to make sure you see that loved one regularly.
3. SCHEDULE IT IN. IN PERMANENT MARKER.
Adding future workouts to your calendar in advance gives you a set plan for the week ahead. That means you won't make it to Friday and realize things got so busy that you just forgot to exercise (been there, done that!). The key here is making sure to plan your workouts for times when you know you're most energized—for some it's first thing in the morning, for others it's in the evening. And if it's time to work out and you can't find your pep, try an Emergen-C Nutrient Shot Energy+. It contains natural caffeine from green tea and coffee fruit, as well as ginseng, vitamin C, and B vitamins. Bonus: it won't take up much space in your gym bag!
4. SET SUPER SPECIFIC GOALS.
Having a vague idea of what you want to accomplish through exercise isn't all that motivating. You want to be more fit? It's a great goal, but one that's hard to measure on your own. When you get more detailed and pick a milestone that you can see progress towards, you'll want to keep at it. For example, let's say you set a goal to be able to do 10 pull-ups. You'll feel a boost of motivation when you hit one, then two, then three, especially if you set those as mini-goals along the way.
5. BUT MAKE SURE YOU'RE NOT OVERTRAINING.
Does it seem like your workouts are getting harder and your performance is getting worse? You might be working out too hard or too often, which can lead to overtraining syndrome. The American Council on Exercise recommends making sure your workout plan includes rest days and active recovery. Active recovery can include activities that get your blood flowing but don't exert your muscles; think going for a walk or a leisurely bike ride — or even a massage. Recovery might just become your favorite thing.
6. REMEMBER YOUR WORKOUTS DON'T HAVE TO BE ALL OR NOTHING.
One common reason people skip a workout is a lack of time: If you can't get in an hour-long session, why even bother? But waiting for a huge chunk of free time can sometimes feel impossible. Luckily, you don't need to squeeze it all in at once. You can get your heart racing and muscles working in as little as 10 minutes. In fact, one study found that doing high intensity intervals on a bike for 10 minutes resulted in the same cardiovascular health improvements over 12 weeks as 50 minutes of continuous cycling. And the U.S. Department of Health and Human Services agrees that even short periods of physical activity have health benefits—so get moving!
© Meredith Corporation. All rights reserved.