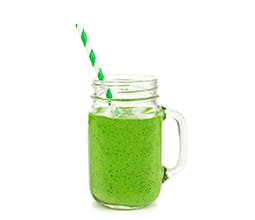 Get in on the "green drink" trend, but give yours the fizzy goodness of Emergen-C for a super punch of vitamin C and other antioxidants†.
INGREDIENTS:

1 packet of Emergen-C Lemon-Lime mix
¾ of a mango (pitted and skinned)
1 peach (pitted)
4-6 kale leaves (de-stemmed)
1 tablespoon flaxseed
A handful of ice
6-8 oz. of almond milk
Half a banana
4 oz. of water
DIRECTIONS:
Chop peaches and mangoes. Put all ingredients in a blender and blend until smooth. Enjoy!