5 Ways to Make Sure You're Caring for Your Own Health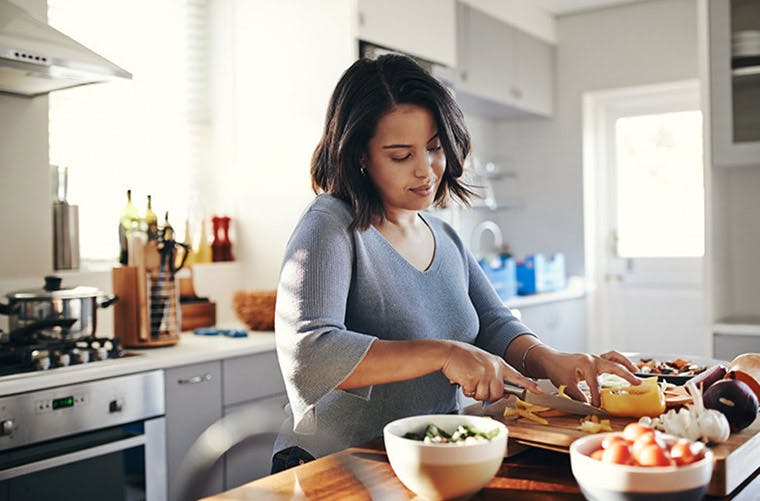 Keep your body functioning at its best even when you're busy running after the kids.
When you become a parent, it's totally normal to start making your kid's health and well-being your top priority. But you don't want to neglect your own health in the process. In fact, the last thing you want is to get sick yourself. Because when a parent is down, it can feel like the whole family stops functioning as well. You need to stay healthy so that you can keep running after your kids at full speed; plus, you don't want to then get them sick if you catch something. Here are some simple ways to maintain your own health so you can be at your best for everyone—including yourself.
LOOK TO QUICK WORKOUTS TO GET IN YOUR EXERCISE.

You should aim to get about 150 minutes of physical activity each week, but getting in a bunch of 45-minute workout classes may not be in the cards. That's OK! Remember that every little bit counts. If you live in an apartment building, try getting down to the courtyard to get some steps—and take the stairs instead of the elevator if that's an option. Go for a short walk, even if it's around your block. Or do a round of 50 jumping jacks in the living room. Your kids can also join you for all of these (turn your walks into a game of I spy or a scavenger hunt!). If you can get even a little time to yourself, many workout apps offer sessions as short as 10 to 15 minutes, so you can get some stretching or strength training in too.

EAT HEALTHIER USING THE SAME STRATEGIES YOU USE ON YOUR KIDS.
While a protein bar or a frozen bean and cheese burrito might fill you up without much fuss (and can be eaten one-handed), they're not ideal for your nutritional health. Chances are, you think ahead on ways to make sure your kids eat more fruits, vegetables, and whole grains, even if they claim not to like them, so use those methods on yourself. You can have smoothies (with some spinach thrown in) become a regular part of your day, make taco night veggie-based, swap regular pasta for whole wheat, and prep extra healthy snacks so there's enough for everyone—think cut up veggies to dip into hummus, string cheese, or easy-to-grab fruits like grapes or bananas.

GIVE YOURSELF A BEDTIME TOO.
It's tough to prioritize shut-eye when you could be using that time to get more work done, especially if you're working from home and can't be as productive as you'd like to be. But you can't discount the significance of sleep, which helps maintain your physical health. While you don't need to go to bed when your kids do, work backward from when you need to wake up and set yourself a bedtime 7 to 9 hours before then to make sure you can get adequate rest. Instagram will still be there in the morning!
Getting enough sleep is also important for your immune system, which can be negatively affected by too little sleep. Exercising and eating well are also key here! You can also take a supplement like Emergen-C Immune+, which is packed with immune-supporting nutrients including vitamin C, vitamin D, and zinc.

MAKE TIME TO TALK TO SOMEONE.
Prioritizing your mental health is just as important as taking care of your physical health. If you have a therapist, treat those appointments as highly as you would a doctor's appointment for your kids—even when you feel busy, don't skip them. There are also tons of free mental health resources, for kids and adults. And you can always reach out to a trusted loved one to get any concerns off your chest, ask for advice, or just vent. Remember that you don't have to go at anything alone!
© Meredith Corporation. All rights reserved.