HOW TO SPREAD COMMUNITY KINDNESS WITHOUT SPREADING GERMS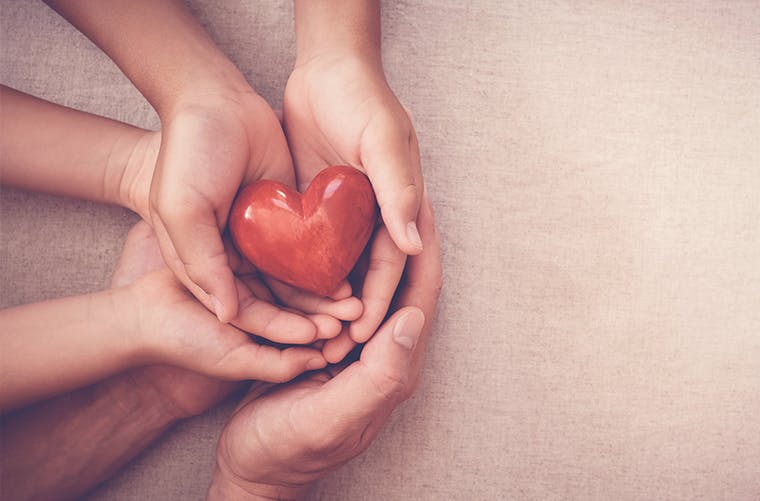 In today's world, where physical and mental wellness have worked their way to the top of our priority lists, it's important to not forget about social wellness, too. With less face-to-face interaction, it can be more difficult to build supportive relationships, make new connections and give back to the community without also worrying about the spread of germs – but it is possible!
Here's how to spread kindness and promote community wellness without jeopardizing your health and the health of others.

1. HOST A VIRTUAL BOOK SWAP.
Got books? Get rid of the old and make room for the new by hosting a virtual book exchange. Start by posting about the exchange on local social media groups or community outreach apps. Next, collect email and mailing addresses from all who want to participate and put them in a numbered list. From there, email the list to the full group (with their permission to share), instructing each person to mail a book of their choice and a hand-written "getting to know you" note to the person below them on the list. Every month, initiate the next swap, sending to the person below your previous recipient. You'll foster community wellness and keep your brain stimulated.

2. START AN ONLINE CLUB.
Whether you like cooking, yoga, travel or flower arrangement, the odds are there are others in your neighborhood or local area who enjoy the same. Make the most of modern technology and create an online club to connect with people who share your passions and interests. Set a weekly or bi-weekly time for an online video conference where you can swap ideas, share stories, make new friends and learn new things. Set meeting topics in advance or simply sign on and chat!
3. BE A VIRTUAL VOLUNTEER.
We all have our talents. For some, it's music. For others, it's writing. And some people are simply good at making people smile. Promote social wellness by virtually volunteering your skills and hobbies, whatever they may be. Offer to edit resumes for out-of-work neighbors, create a pen pal program with a local nursing home, do a virtual storybook reading for kids in the community, host an online fitness class, or create artwork for local restaurants and shops. When we engage in good deeds, we reduce our own stress, as altruistic behavior can trigger the brain's reward circuitry through the release of "feel-good" chemicals like dopamine and endorphins. It's a win-win!
4. MAKE A DONATION.
Donating blood or plasma can be an incredible contribution to your community, but it's not always possible. Thankfully, there are many other types of donations, like clothing or food, that are always in need. Start by deciding what you'd like to donate and if you'd prefer to spend money to purchase donation items (food, personal care products, etc.) or donate gently used items of your own. Check local websites or newspapers to see what might be in need, then go room to room, setting aside items you no longer want or need. Haven't worn that sweater in two years? Not sure what to do with those extra pairs of shoes? Donate them! Plus, a Princeton University study suggests that clutter can actually make it more difficult to focus on a particular task, so clearing out your home is ultimately helping your mind, too.
5. INITIATE A "CHAIN REACTION" STORY.
Get your creative juices flowing with friends, strangers and neighbors by starting a "chain reaction" game. Here's how it works: begin by writing the first paragraph (or page, if you're up for the challenge!) of a story. Introduce characters, settings and plot to kick things off. When you're done, email your paragraph to someone else, prompting them to keep the chain going by writing the next paragraph, then forwarding it along to another while keeping all participants on copy. Make a note that the twentieth person to write their addition should complete the story. Watch your story develop as it's passed along to others and make new connections with your fellow storytellers. Want to switch it up? Play the same "write-and-pass-it-on" game with poems or song lyrics and extend the invite to others in your area through a local website.
Remember: social wellness doesn't have to be hard. Even small gestures, like checking on your neighbors or paying for a stranger's coffee, can make a huge difference in someone's day.
SOURCES
By clicking any of the links below you will be taken to an external website that is independently operated and not managed by GSK. GSK assumes no responsibility for the content on the website. If you do not wish to leave this website, do not click on the links below.
i. WebMD: The Science of Good Deeds
https://www.webmd.com/balance/features/science-good-deeds#1

ii. Psychology Today: The Powerful Psychology Behind Cleanliness
https://www.psychologytoday.com/us/blog/the-truisms-wellness/201607/the-powerful-psychology-behind-cleanliness

iii. PubMed.gov Interactions of top-down and bottom-up mechanisms in human visual cortex
https://pubmed.ncbi.nlm.nih.gov/19934011/