Community Glow Up: 5 Ways to Enhance Your Community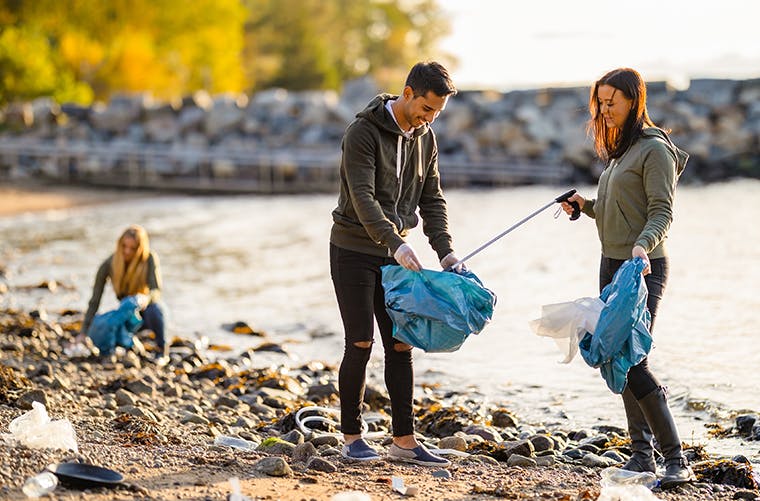 What makes a community beautiful? Is it cleanliness? Friendliness? Perhaps it's just a feeling of acceptance and appreciation from those around you. What we do know is that social wellness, or the healthy relationship we build with people through contributing to our communities and to the world, creates a sense of belonging. So, if you've been thinking about giving back, your good deeds won't just benefit those around you – they'll benefit you, too!
There are dozens of ways to help your community feel more inclusive and welcoming, from DIY beautification projects to larger initiatives that require the help your neighbors and friends. Here, we'll provide 5 unique ideas around how to make a difference in your community, and ultimately, nurture your social wellness.
1. CREATE A LOCAL STIMULUS BOARD
We all have local causes and businesses that we love and admire, but how can we help them flourish and grow within the community? From mom-and-pop pet shops to must-try restaurants, word-of-mouth marketing remains an important (and trusted) source for recommendations. To help get the word out about local businesses, consider creating a social media "stimulus" page, where locals can give shoutouts and recommendations to others. Invite members of your community to join, encouraging them to tag some of their favorite places, must-try meals, local deals and more. Providing your community an opportunity to give praise to local establishments will not only foster a feeling of togetherness – it will also drive awareness to local spots that could use some love.
2. LAUNCH A COMMUNITY ARTWORK INITIATIVE
Beyond its "fun factor," creating art can actually promote well-being and create a space for social connection. Making art can help people express themselves in a creative way, and has also been known to alleviate anxiety, depression and stress. For this reason, creating a community artwork initiative can help promote individual wellness and raise money for the community. Here's how it works: first, recruit local businesses and artists (they can even be kids!) to participate. Next, collect artwork submissions from participants, whether paintings, drawings, sculptures, etc. Work with local businesses to display that artwork in their shops, assigning a price tag to each. If a patron purchases the art, that business gets to keep the money. Someone takes home a local treasure, and a business in need reaps the rewards – a win-win.
3. POST A "NEIGHBOR IN NEED" LIST
If you live in a more urban area where apartment buildings are vast, some social project ideas are more feasible than others. One simple way to foster community in a densely populated area is by volunteering time to help out neighbors in need. From picking up eggs at the market to fixing a wobbly chair leg, small tasks that may seem easy to some can be daunting to others, especially those who are elderly or living alone. With your building's consent, post a sign-up sheet in your lobby or elevator where your neighbors can post their name, phone number, and task needed. If someone is able to help, they can call your neighbor in need to coordinate, then cross out that task on the communal list. This initiative not only helps form new community connections; it creates an ongoing "pay it forward" mindset that may, at some point, come back around to benefit you.
4. TIDY UP YOUR COMMUNITY
If you're looking for ways to help your community without having to recruit the help of others, start by giving your local area a quick "glow up." If you find yourself with some extra time and an eagerness to do something productive, head outside and clean up the neighborhood. Bring a garbage bag and a trash picker or disposable gloves, and take a walk down your street, collecting any (non-hazardous) garbage along your route. You'll be surprised how many wrappers, plastic bags and drink containers are littering the streets. Just be sure to wear gloves and properly dispose of the garbage collected.
5. DONATE, DONATE, DONATE
For every too-small winter coat in your closet, there's someone in need. Every season (or more frequently, if you're able), donate your gently used items to community members who are less fortunate. From local clothing drives to non-profits and charities, there are always organizations and causes that can use donations. Do your research to determine items in-need, then go through your home to set aside anything you haven't used or no longer need. Feeling extra generous? Ask your neighbors to donate, as well, or offer to volunteer your time with one of those organizations in need.
Hopefully, these five unique ways to help your community will inspire you to give back, or even spark service project ideas of your own. "Community" is often thought of as the area in which you live, but really, community is so much more; it's about creating meaningful connections, a safe and inviting space, and a feeling of belonging. Community is what you make of it, and there's no better time to get started.

SOURCES
By clicking any of the links below you will be taken to an external website that is independently operated and not managed by GSK. GSK assumes no responsibility for the content on the website. If you do not wish to leave this website, do not click on the links below.
i. Center for Health & Wellbeing: Seven Dimensions of Wellbeing
https://www.grcc.edu/humanresources/wellness/sevendimensionsofwellness
Accessed 11.9.2020
ii. MentalHealth.org: How Arts Can Help Improve Your Mental Health
https://www.mentalhealth.org.uk/blog/how-arts-can-help-improve-your-mental-health
Accessed 11.9.2020