5 WAYS TO STEP UP YOUR COCOA GAME THIS WINTER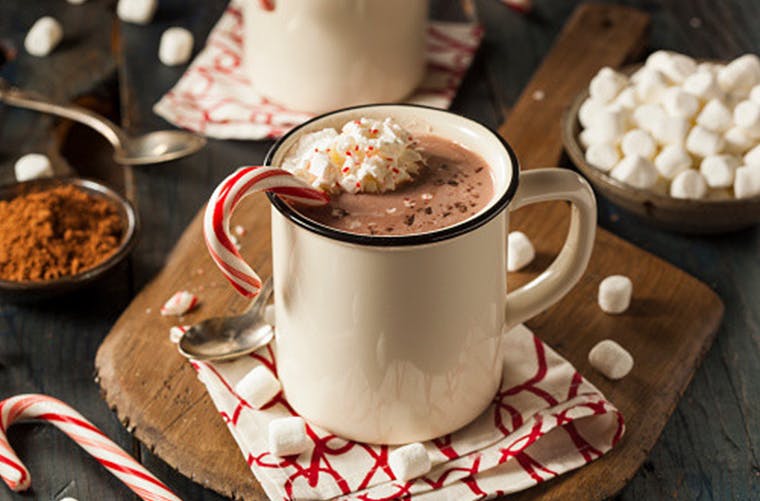 Ah, spring, that time of year when the flowers bloom, the sun begins to shine again…and then a freak hail storm blows in?! While the days may be warmer, spring nights tend to be chilly, so while you may have packed up your flannels, you don't need to put that hot cocoa in the back of your pantry just yet. It's the perfect way to warm up and relax (even if you're wearing florals). Need another reason to drink hot cocoa? One study found that cocoa has more antioxidants than black tea, green tea, and red wine. But while the packaged mixes are super-easy to use—just add water and stir!—they aren't necessarily the healthiest. They can contain unnecessary saturated fat and sodium, and can have ingredients like corn syrup, hydrogenated oils, and artificial flavors.
So what's a healthy hot cocoa-loving person to do? Make up your own mix! It's almost as easy as ripping open a packet, and you'll know exactly what's going into your mug. Use this base recipe to get that classic hot cocoa flavor (it makes four servings):
4 cups unsweetened plant-based milk like almond, soy, or coconut
4 tablespoons unsweetened cocoa powder, divided
4 tablespoons sweetener of your choice, divided (it can be sugar, stevia, or even honey)
Heat the milk in a pot on the stove until steaming, making sure to stir it regularly and not let it boil. Meanwhile, set out four mugs. In each one, place 1 tablespoon unsweetened cocoa powder and 1 tablespoon sweetener. When the milk is warm and frothy, pour it over the cocoa mixture, and whisk each mug with a fork until the mixture is well combined.
What makes the above recipe even better is that it's customizable. Once you've mastered the classic version, try making it more interesting with these flavor variations:
Add a packet of Emergen-C Cranberry-Pomegranate dietary supplement drink mix to each of the mugs. Not only will you get the fruity, chocolaty flavor combo, but you'll be getting your vitamin C and B vitamins, too.
PEPPERMINT HOT COCOA:
Add 1/8 teaspoon peppermint extract to each mug. If you like to top yours with unsweetened whipped cream, sprinkle on some crushed peppermint candies as well.
CINNAMON HOT COCOA:
Add 1 teaspoon ground cinnamon to each mug along with the cocoa and sweetener.
MEXICAN HOT COCOA:
Spice your drink up by adding a dash of cayenne pepper to each mug before you pour in the milk.
© Meredith Corporation. All rights reserved.