HOW TO MAKE FAMILY DINNERS MORE ENJOYABLE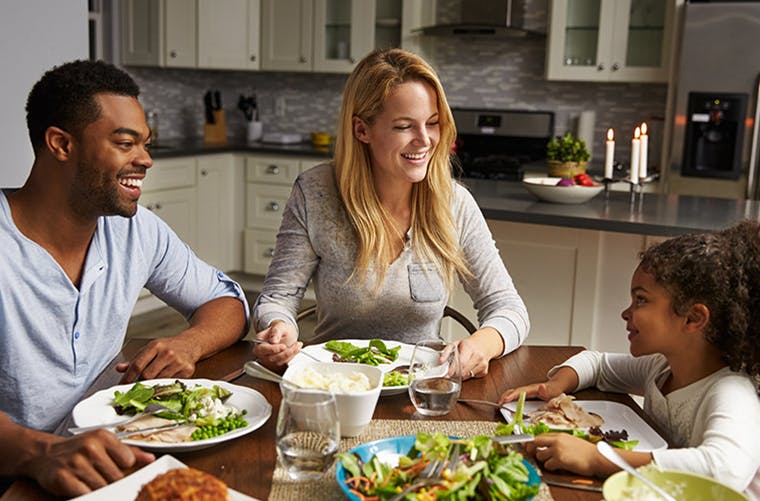 Navigating various schedules, activities, homework requirements, and food preferences can make having a regular family dinner difficult, if not downright impossible some weeks. In fact, research has found that the frequency of family dinners is on the decline. But multiple studies show that it's worth making the effort to sit down at the table together.
A systemic review of 14 studies on this topic found that adolescents who have frequent family meals are inversely associated with disordered eating, concern about body image, smoking and drinking, and violence. In addition, they found that those teens were associated with having greater self-esteem, making better food choices, and better grades.
Another recent longitudinal study looked at the quality of the family meal environment of nearly 1,500 children at age 6, and then followed up about the children's well-being at age 10. They found that 6-year-olds with good family meal environment quality were more likely to have good physical fitness at age 10, and had lower levels of soda consumption, physical aggression, and nonaggressive delinquency.
So with everyone so busy, how do you ensure that family dinners are something everyone prioritizes and wants to be a part of? Try these suggestions from real moms to get everyone excited about gathering around the dinner table together:
GET YOUR KIDS INVOLVED. Julie Burleson, the CEO of Young Chefs Academy, a kids' cooking school, recommends letting your children help put together the meal in the kitchen. Depending on the age of your child, they may be able to do anything from being your sous chef, stirring and slicing and dicing, to gathering ingredients and tools, to just watching the action from a step stool. "Our 6-year-old likes to count out the plates, napkins, cups, and silverware by herself [and] set the table. Our older boys like to make the salad dressing and toss the salad," says La Dorita's Josephine Caminos Oria, of Pittsburgh, Pennsylvania. When your kids feel like they're part of the process, the family meal may become more exciting to them.
TAKE SHORTCUTS. Try doing meal prep ahead of time on the weekends or, if you can afford it, many markets sell precut or spiralized vegetables, shredded Brussels sprouts, or cauliflower "rice" to save time on weeknights, suggests Julie Revelant, a mother of a 7- and 5-year-old in Bethel, Connecticut, who writes about getting kids to eat healthier. Remember: The easier a family dinner is to make, the more likely it will happen when you're busy. Breakfast for dinner is a great option!
HAVE A FLEXIBLE SCHEDULE. You don't have to eat dinner at the same time every night. Maybe you do an early family dinner on Tuesdays to accommodate a movie night, or a late family dinner on Thursdays to work around a busy day full of homework. And if it just seems completely impossible to all have dinner some weeks, plan to have a Saturday family brunch instead.
COOK EVERY OTHER NIGHT. Instead of spending an hour at the stove every single evening, try making a meal every other night and doubling it. Then eat leftovers on in-between evenings. You can also make big batches of things you can transform: One night's chicken cutlets can become the next night's chicken parmesan.
SERVE VEGGIES EARLY. One of the most stressful parts of a family dinner can be getting your picky child to eat even one bite of one vegetable. Try serving them first as appetizers while your kids are super-hungry, suggests Kate Cobb Bowers, a mother of a 7- and a 4-year-old and a pediatrician in Richmond, Virginia. Raw carrots, broccoli, cauliflower, peppers, and pea pods with a low-fat ranch dipping sauce can go a long way. This is also a good option when your kids start begging for snacks an hour before dinner.
REDUCE THE MENTAL LOAD. Consider subscribing (either now and then, or regularly) to a service like Green Chef or Hello Fresh that sends you a box each week with portioned-out ingredients for several meals, so you don't have to stress about what to make or find recipes. Or have your groceries delivered via a service like Instacart or Shipt, which will save you trips to the store.
ENCOURAGE CONVERSATION. Make the dinner table a no-screen zone and invite everyone to share their "rose" and their "thorn"—the best and worst parts of their day, says Katie Kimball, the founder of the Kids Cook Real Food e-course. Other parents call this game "high and low." One other good conversation starter for both young kids and surly teenagers? Have everyone share what they ate for lunch that day.
KEEP THE LITTLE ONES ENTERTAINED. Don't forget to have fun! Tara Keany Adams, a mother of a 13- and 10-year-old in Huntington Station, New York, makes every Wednesday night dinner "joke night," and every family member comes with their new favorite zinger to lighten the mood—it was her older daughter's idea. (Need joke inspo? Get it here!) With younger kids, try playing a conversational thinking game. Tim and M. Priscilla Myers, literacy specialists and parents in Santa Clara, California, recommend playing games like the Category Game. The child chooses a category, like "food," and then the parent can ask a question within that category, like "Name three kinds of Mexican food."
HAVE A PICNIC. On a beautiful day, why not grab a big blanket and head to the yard to enjoy the fresh air? No one said family dinner has to be at the table.
LET EVERY FAMILY MEMBER WEIGH IN. Karen Shopoff Rooff, a 43-year-old mother of three (ages 14, 11, and 6) in Austin, Texas, asks her family a question every Sunday: What do you want for dinner this week? Each person in the family gets to choose a meal and then—boom—she has her five meals for the week. "This way, everyone feels like his or her preferences are being honored. And if someone tries to complain about a particular meal, I can gently remind him that his dinner is coming up tomorrow night or was last night," she says.
© Meredith Corporation. All rights reserved.