HOW TO HOST THE BEST FRIENDMAS EVER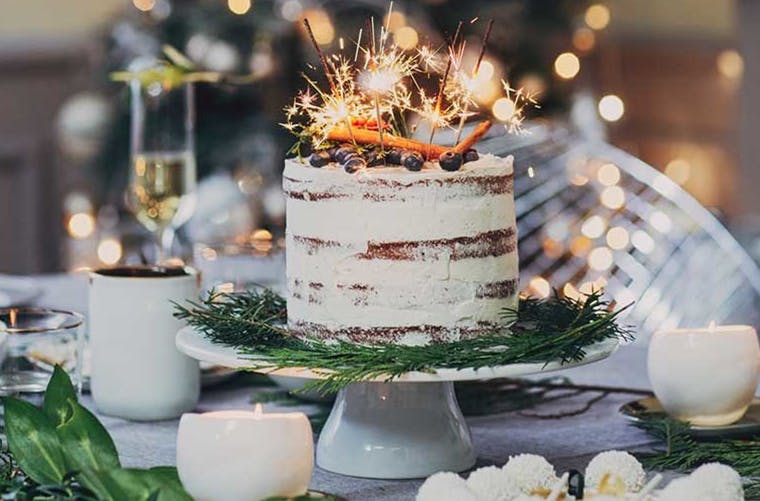 The approaching winter means many things: On the downside, the temperature is nose-diving and it's already dark when you leave the office. But on the bright side, the streets are sparkling with lights and extra time with family is approaching. If you want to make sure you get in quality time with your friends before you're all off for the holidays, why not plan a festive shindig? Hosting a holiday party isn't as much work as you think, as long as you plan appropriately. Everyone will be talking about making Friendsmas (or Friendsukkah) a yearly tradition!
PICK A DATE AND GET THE WORD OUT.
A gathering of 13 to 15 partygoers is the sweet spot, according to research from electronics brand Sonos, which polled 9,000 people between 18 and 40 about the new holiday tradition. Stick to your core group, and send a calendar invite straight to friends' phones.
DELEGATE, DELEGATE, DELEGATE.
Just because you're the host doesn't mean you have to do everything. Give out tasks based on your besties' strengths: Your Pinterest-obsessed friend should be in charge of décor, and the friend who loves to experiment in the kitchen should create a signature drink. Set up a shared playlist so everyone can add songs to play during the party, and as for food…
COOK ONLY THE MAIN DISH.

Make your party a potluck! Cook a main dish, such as a turkey or a vegetarian lasagna, and ask others to bring their favorite side, appetizer, or dessert. Make sure people are clear on the crowd size, so someone doesn't show up with green beans for five at a party of 15. If you want to tell people exactly what to bring so you have a cohesive menu, do it! May we suggest roasted Brussels sprouts and garlic mashed cauliflower for sides, some of these simple five-ingredient appetizers, and caramelized spiced pears for dessert?
DON'T FORGET YOURSELF IN YOUR PARTY PREP.
Even with party duties shared between friends, you'll still have extra things to do as the host, like stocking up on plates and doing a deep clean of everything. Make sure to give yourself time to rest, and support your immune system by taking a supplement like Emergen-C Immune+.
HAVE VERY CLEAR GUIDELINES FOR A GIFT EXCHANGE.
Whether you're doing a White Elephant, Yankee Swap, or Secret Santa, set a clear and accessible spending cap, so no one feels cheated or stretched too thin, or pick a type of inexpensive gift in advance, like an ornament swap. If many of your guests like to bake, suggest doing a cookie swap instead.
PLAN ACTIVITIES.
While many people love a good party game, they're not everyone's cup of tea. Have some other activities on hand, like a pre-lit tree to trim or s'mores fixings to make over your fireplace.
GET CREATIVE WITH SEATING.
Chances are you don't have a dining table that seats more than a dozen people. Not a problem! Move the chairs to your living room, where your couch can serve as extra seating. Don't forget about storage benches and beach chairs if you're still low on seats; no one will care, especially if you cover them with tinsel and lights.
© Meredith Corporation. All rights reserved.