CITRUSY RECIPES TO MAKE THIS WINTER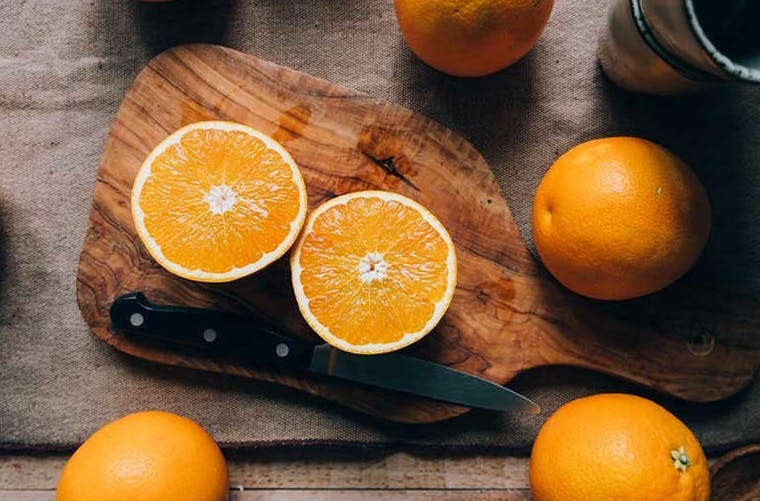 Summer gets all the glory when it comes to fresh, seasonal fruit. After all, the abundance of berries, melons, and stone fruit make it easy to highlight fruit in every meal. But don't be so quick to assume the only spring fruit available to you is rhubarb—it's actually the perfect time to eat citrus fruits. They're all in season right now and delicious in all kinds of dishes. Since the best way to celebrate citrus season is by adding as many of these refreshing, bright flavors to your food as possible, here are a few creative ways to do just that.
ORANGE.
When people think "citrus," this is usually the fruit that comes to mind. In addition to snacking on orange wedges or sipping on some freshly squeezed juice, you can add them to recipes both sweet and savory. Use one to make these easy sheet pan orange-and-apricot drumsticks, combine the zest with oregano to make a fresh salad dressing, or work it into a healthy side like this bulgur with ginger and orange.
LEMON.
Sure, you can use the basic variety (it's great in desserts like Lemon Meringue Sandwich Cookies and drinks like this Soothing Ginger-Lemon Tea), but experiment with Meyer lemons, too. They shine in this Fennel & Meyer Lemon Stuffed Salmon and this roasted gnocchi and Brussels sprouts.
LIME.
Let limes brighten up an Orzo Chicken Salad With Avocado-Lime Dressing or Coconut Roasted Cauliflower With Cilantro and Lime. And don't forget about Key limes. They are smaller and a little tarter than the more common variety of limes. They pair great with the honey in this glazed chicken recipe.
GRAPEFRUIT.
The classic way to enjoy this huge fruit is to cut it in half and eat the wedges with a spoon. But don't stop there: The flavor adds a great acid to fish dishes, like this Grapefruit & Red Snapper Ceviche. Or use grapefruit in a salad—it shines in this Red Grapefruit Salad With Avocado & Pistachios.
MIX IT UP.
There's a reason citrus fruits are often combined: The flavors taste great together! Try this Mint Lime Cooler, a refreshing fizzy vitamin drink mix with Emergen-C Lemon-Lime, mint, and lime. Lime and orange feature in this citrus tofu salad, and lemon and orange pair up perfectly in this Roast Chicken With Citrus & Thyme.
© Meredith Corporation. All rights reserved.