The Benefits of Dietary Supplements for Active Kids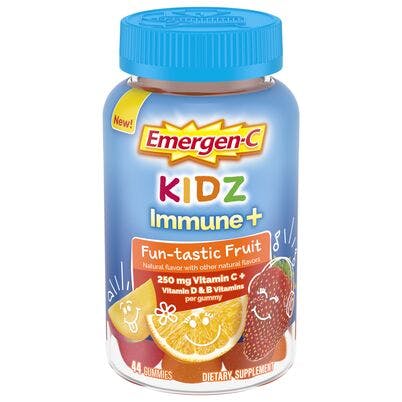 Dietary supplements can help support your child's energy and immune system. Keep reading this article to learn about how the nutrients in Emergen-C's Kidz gummies, like Vitamin C, help support your child's immune system* no matter how active they are.
Nutrients
Not only are Emergen-C's Kidz dietary supplements gluten free and caffeine free, but they also include nutrients that can help support your child's immune system*. Some of these nutrients are:1
Vitamin C. This nutrient isn't produced by the human body.2 However, your child can get vitamin C from foods like citrus fruits, berries, potatoes, tomatoes, peppers, cabbage, broccoli, and spinach.2 Vitamin C is an antioxidant that helps support your child's immune system.2
Vitamin D. Vitamin D is a fat-soluble vitamin that can be produced in the body after sunlight exposure. This nutrient is important because it promotes calcium absorption for healthy bone and teeth development.4 Vitamin D can also help support your child's immune system.3 Your child can get vitamin D through their skin, from foods naturally rich in vitamin D, and from supplements they take. Although it's less commonly found in food, some foods that contain vitamin D are egg yolks, liver, fortified milk, fortified cereal, salmon, mackerel, and sardines.3,4 Immune+ Kidz gummies contain vitamin D, as do other dietary supplements.
Vitamin B6. Vitamin B6 helps nerve function, and it helps break down the proteins your child consumes.5 This nutrient can also help make the hemoglobin that carries oxygen in your child's red blood cells to their body's tissues.5 You can make sure your child gets enough vitamin B6 by feeding them foods like tuna, salmon, bananas, beef, pork, nuts, chicken, fortified bread, and fortified cereal, along with a dietary supplement that's made for children.5
Vitamin B12. This nutrient plays an important role in your child's central nervous system.6,7 It helps create red blood cells and produces DNA.6,7 While vitamin B12 isn't usually found in plant-based foods, it can be found in many animal products. To make sure your child gets enough vitamin B12, you can feed them beef, poultry, shellfish, eggs, milk, and some fortified cereals along with supplements.7 As your child consumes sources of vitamin B12, their body can store this nutrient in their liver for years.7
Great Taste
Let's be honest here: how many kids really care about these great nutrients and vitamins that help their bodies function? To support your child's healthy diet, you can easily convince them to take dietary supplements because of their awesome taste. Emergen-C makes gummy supplements that come in fun, fruity flavors like Berry Bash, Fruit Fiesta, and Funtastic Fruit.
Convenient
No matter if you're out with your child running errands or if you're reading them a bedtime story, the convenience of gummy supplements provides a quick and easy way to help your child get the needed nutrients that help support their immune system and energy.
Easy to Incorporate into a Healthy Daily Routine for Your Active Kid
Emergen-C's Kidz gummies are easy to take on-the-go so that your child won't have to take too much time out of their busy day to take them. You can incorporate the recommended number of gummies into your child's schedule, with adult supervision, by making time for them during normal daily activities. Some of these daily lifestyle activities might be:
Brushing their teeth
Bathing
Eating well-balanced meals paired with gummy supplements
Spending time with family and friends
Support your child's immune system and enhance their energy* with gummy supplements like Emergen-C's Kidz products.
* These statements have not been evaluated by the Food and Drug Administration. These products are not intended to diagnose, treat, cure or prevent any disease.
Source Citations: