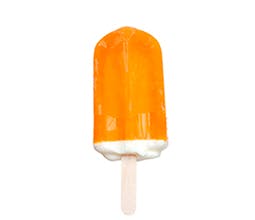 Beat the heat with this version of a summertime classic. While you cool down, Emergen-C has key electrolytes to help replenish you, vitamin C to fortify you, and B vitamins to enhance energy naturally.*
INGREDIENTS:

Vanilla Cream
1/3 cup of Greek-style yogurt
1/3 cup of almond milk
1 ½ tablespoons of honey
1/4 teaspoon of vanilla
Orange Cream
1 packet of Emergen-C Kidz Orange mix
2 tablespoons and 2 teaspoons of Greek-style yogurt
2 tablespoons and 2 teaspoons of almond milk
1 tablespoon of honey
DIRECTIONS:
Mix the ingredients for the vanilla cream in a medium bowl and set aside. In a separate bowl, mix the ingredients for the orange cream. Let flavors meld for 15 minutes. Meanwhile, place a large plate in the freezer. Using an ice pop mold, freeze the vanilla cream according to the ice pop mold directions. Once frozen, dip the pops in the orange cream to coat, using a spoon to help cream stick on any hard-to-reach surfaces. Place dipped ice pops on the cold plate and place back in the freezer for 10 minutes. Then, dip pops in orange cream for a second time, and freeze for an additional 15 minutes.