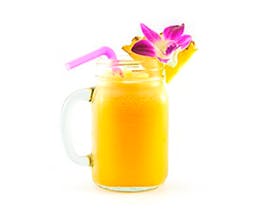 Perfect for when you're on-the-go, this delicious smoothie is packed with the perfect balance of fresh fruit and your favorite Emergen-C Energy+ vitamin drink mix.
INGREDIENTS:

1 packet of Emergen-C Energy+ Mango-Peach vitamin drink mix
¼ cup of chopped pineapple
¼ cup of chopped mango
½ of a banana
½ cup of apple juice
DIRECTIONS:
Blend all ingredients until smooth. Pour into a glass and enjoy!
Note: This recipe is formulated with Emergen-C Energy+. Emergen-C Energy+ is not formulated for use in children.