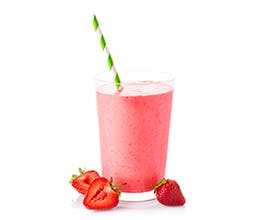 Blend Emergen-C, which has vitamin C, antioxidants†, B vitamins and electrolytes, with fresh fruit and milk and the rest of your day can be smooth sailing.
INGREDIENTS:

1 packet of Emergen-C Raspberry mix
1 small banana
1 cup of fresh or frozen strawberries
1 cup of your favorite milk (try almond or soy)
A handful of ice cubes (less if using frozen strawberries)
DIRECTIONS:
Blend all ingredients until smooth. Pour into a glass and enjoy!