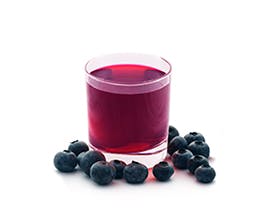 Sip on something sweet and sparkling! Enjoy flavors of Blueberry-Acai, lemonade and a hint of zesty ginger.
INGREDIENTS:
11/2-inch piece of peeled fresh ginger
3/4 cup chilled sparkling water
2 tablespoons fresh lemon juice
1 packet of Emergen-C Blueberry-Acai mix
Fresh blueberries (optional)
DIRECTIONS:
Finely grate ginger onto a paper towel and squeeze to extract ginger juice. Then, combine 1 teaspoon ginger juice, sparkling water, lemon juice, and Emergen-C Blueberry-Acai mix. Lastly, stir gently to combine and enjoy!