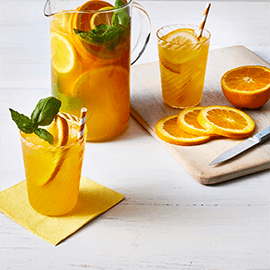 Drink up and cool down. This Orange-Basil Sparkler is full of citrusy flavor and Vitamin C for sips you can feel good about.
INGREDIENTS:
1 small basil sprig
1 navel orange slices
2 lemon slices
3/4 cups chilled sparkling water
1 packet of Emergen-C Super Orange mix
DIRECTIONS:
Place basil sprig, and orange and lemon slices in a pitcher and gently muddle (press from different angles) using a wooden spoon until basil is fragrant and citrus releases juices. Next, add sparkling water. Then, stir in Emergen-C Super Orange mix. Lastly, using a spoon to prevent fruit from splashing out, pour drink over ice and enjoy!