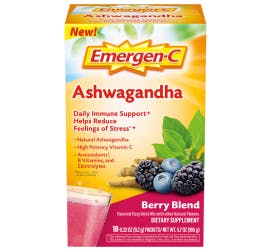 Support your immune system and help reduce feelings of stress with Emergen-C Vitamin C and Ashwagandha Drink Mix1,2.
This immune support dietary supplement is the same Emergen-C drink powder you love infused with the goodness of organic ashwagandha to help reduce occasional feelings of stress1,2.
Support your immune system with a daily dose of 250mg of high potency Vitamin C plus other antioxidants, like zinc and manganese1.
Each packet of these daily vitamins also gives you a boost of 7 B vitamins to enhance energy naturally1 and key electrolytes. These berry flavored vitamin C supplements are caffeine free, gluten free and vegetarian.
Just mix one of these ashwagandha powder packets with 4 to 6 ounces of water for a fizzy, fruit flavored vitamin C boost in minutes, or add a packet to your favorite smoothie for a refreshing treat you can feel good about. Each box contains 18 single serve packets.
Transform every day with vitamin C and zinc from Emergen-C.
1This statement has not been evaluated by the Food and Drug Administration. This product is not intended to diagnose, treat, cure or prevent any disease.

2Antioxidants for immune support and ashwagandha to help reduce feelings of stress1